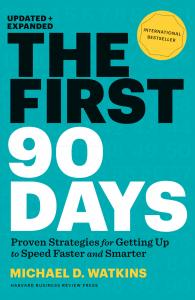 In his book The First 90 Days, Michael Watkins describes a number of strategies that you should think about when changing jobs. Every job change leads to a change of organization, manager or responsibilities, and it is important to analyse how you have to adapt your own behaviour and actions in order to be at least as successful in this new role as in your previous role.
Watkins describes that in an average career of 18 years, people change jobs 13.5 times and within the Fortune 500 companies, 25% of managers changes each year. When we can accelerate the break-even point of a change, which means that the new person can quickly become immersed in his new role and therefore can add value to the organization more quickly, an organization can prevent many problems and implement changes more quickly. This article describes some of the strategies that Watkins describes in his book.
PERSONAL PREPARATION is first and foremost of great importance. Before you start your new role, there are a number of fields that require preparation.
To start; business orientation. It is important to understand what kind of organization you work in, how it is hierarchically organized, and how this differs from your previous job.
Secondly, it is smart to prepare for cultural adaptations. How do people gain recognition? How are decisions taken in meetings? How is conflict handled? Also within the same organization, a change of team can lead you into a different culture, where you have to adapt as a new member.
A third topic is stakeholder connections. With this, Watkins aims that you should think about a strategy on how to get to know your new colleagues. Since the first people with whom you speak to often have a greater influence on your opinion about a situation than the people you speak to after a few weeks, it is wise to use a standard questionnaire when getting acquainted, so that afterwards you can compare all new colleagues more objectively.
A second topic that will be discussed is the ADJUSTMENT OF YOUR STRATEGY TO THE SITUATION. Different situations require different challenges and a different management style. It is therefore possible that you will encounter a completely new situation in your new job, where you have to adjust your management style. Watkins describes 5 types of situations, indicated by the acronym: STARS.
In Start-ups, the biggest challenge is creating skills to create a product or service. People can often use their own creativity, but there is often a lack of resources.
In Turnarounds often hard discussions are needed and decisions need to be made regarding both personnel and product portfolio, without having enough time to gather the desirable amount of data to make a well-considered decision. The pressure is high, and people need a plan that they can follow to get the quick change done.
In an Accelerated Growth situation, the most important task is to create structures so that the team can scale up quickly. People have to learn to work in a disciplined way.
In a Re-alignment situation there is less stress than in a turnaround, and it is often not clear why change is needed. The sense of urgency is lacking, and the main task of the manager is to challenge denial and convince people that change is needed.
Finally, in a Sustaining Success situation, it is important as a manager to understand why the organization or team is so successful in preventing you from disrupting your success. At the same time, it should be avoided that people take the success too lightly and thereby make mistakes.
The next step is to NEGOTIATE WITH YOUR NEW MANAGER how your success will be determined in the first 90 days (and the rest of the time that you are in this position).
You are 100% responsible for the relationship with your boss. Therefore take initiative to improve the relationship when necessary, and keep your manager informed of important matters.
Discuss the expectations you have of each other "early, often and again". Make sure you are on the same line, so that you know what your success means for your supervisor.
In addition to expectations, it is also good to discuss the way in which you work together, the resources you need, and how you want to develop further.
Then plan small projects for the first 90 days to help you achieve the goals you have set. By taking part of your goals in the first 90 days, you show that it was a good choice to put you in that position. To both your manager and your team.
A fourth topic that appeals to me is the subject that Watkins describes as BUILDING YOUR TEAM, when you have a leading role. To assess colleagues you can use the following six criteria:
Competence - which technical competence does someone bring along? And what is his or her experience in the job?
Judgment ability - how does someone react in a stressful situation?
Energy - does the person energize the team?
Focus - how well can this person set priorities and work accordingly?
Relationships - does the person have good relations with his colleagues, leading to rapid consensus in group decisions?
Trust - does this person follow agreements and does he or she do what he says he does?
The First 90 Days describes a range of good ideas to ensure that your first 90 days in a new role are successful. Watkins experience is even that the break-even point is reached 40% faster when the principles in this book are respected. If you are planning to change jobs, this is a must-read.
Continue to:
The Leadership Pipeline - R.Charan (summary)
REFERENCE:
Watkins, M., 2013, The First 90 Days – Proven Strategies for Getting Up to Speed Faster and Smarter, Boston: Harvard Business review (order this book)