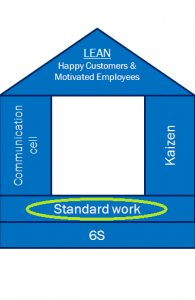 Next to 6S, the Communication Cell en Kaizen, Standard work is part of my Lean house for the shopfloor. Standard work ensures a safe working environment (reduces Muri), facilitates efficient use of both man and machine (reduces Muda), and makes sure everybody performes a task the same way (reduces Mura). It is also used to preserve knowledge and skills, forms the basis for continuous improvement, is the communication tool for all improvements as well as the documentation of improvements, it is used as training material and is used as a reference for employees.
To systematically implement standard work in every department I describe 6 steps: create a SIPOC (1), create Process Maps (2), evaluate availability of Standard Operating Procedures (SOP's) (3), Update current SOP's to single-page documents when possible (4), create missing SOP's (5) and build an easy accessible SOP-database (6).
The following sheets show how we are implementing each of these 6 steps in our organization:
The First step in systematically define Standard Work is the SIPOC [illustration 1]. This tool is used to define the most important sub-processes of a department or workstation. The boundaries of each process are defined which define for what process-steps standard work will be defined. Next to the boundaries of the process, the supplier and customer for each sub-process are defined. The customer requirements, which can also be another workstation in de factory, will be used to define quality remarks in the job descriptions later on.
The second step is to map the sub-processes each in a PROCESSMAP [illustration 2]. With only 6 symbols, each sub-process can be visualized in combination with a time-study. The time-study will include process- and waiting-times, which will help you identifying wastes at kaizen activities.
All sub-process-steps which are described in Processmaps need to have a Standard Operating Procedure. The processmaps can help ANALIZING WHAT SOP'S ARE THERE [illustration 3] already.
Step four describes to UPDATE CURRENT SOP'S [illustration 4] to singe-page-documents as much as possible. It is not uncommon that operating procedures are documents of enormous size, which results in them not being used by operators because of the amount of text. By reducing the size of the SOP's to one page as often as possible, including graphical examples, people will have the tendency to use them more often.
The fifth step is to CREATE THE MISSING SOP'S [illustration 5]. All process-steps defined in the Processmaps in step 2 need to be documented in Standard Operating Procedures. The best way to document the current way of working is involving operators who perform the task in documenting it.
Finally, all operating procedures should easily be accessible, and should therefore be put in a DATABASE [illustration 6]. Finding the right SOP can be facilitated by building a Tree-structure of SOPs and a powerpoint presentation to click through the tree to find the SOP you're looking for. Next to the official digital database, it can be necessary to place some of the procedures on the shop-floor in hardcopy. This makes it easier to perform the Kamishibai audits.
Standard Work is the basis for all improvements and therefore the basis of every Lean implementation. When current working methods are not standardized, variation (Mura) might exist in the process. When employees all agree on the current way of performing a task, collectively finding improvements will be easier.
This is article 3 in thee series 'Lean House for the Shopfloor'
Continue to: